Firing on two.


Joined: August 31st, 2016, 12:12 pm
Posts: 322
Location: Hawkins County, TN. USA


Re: Citroen Production Date Calculator.
First of all the link seems to be dead.

I've been trying to determine the actual year of my "ringer" 2CV. Well one of my Trabant buddies from the UK called it a "ringer".

The VIN does not have the 17 digit number installed past 1981 or around that time. The engine compartment has been resprayed so the number stamped on the bulkhead is no longer visible.

Either the VIN was swapped here in the US or in France before it was shipped here. It is a French spec version.

The car is titled as a 1971 but obviously is not. Are there any other numbers stamped on the car that might help?

Someone told me there was a number stamped under the front seat but I have not been able to find it.

The gearbox has "87" embossed on the right side. Is that a year date or is that number insignificant?

If the speedometer is original, the odometer says 40,000 kilometers. Which seems kind of low for a 1971 model. Actually low for an 87 model. Maybe not so much in Europe.

My 2003 Subaru only has 78,000 miles on it and by American standards, that is very low. Most cars over here have well over 100,000 miles within three to five years.
_________________
http://s222.photobucket.com/user/turbof ... t=2&page=1
Firing on two.

Joined: August 8th, 2012, 11:00 am
Posts: 457
Location: Korpilahti, Finland


Re: Citroen Production Date Calculator.
Well...

The -87 on gearbox, it only tell the gearbox case is made on -87. Nothing else. And, someone could be changed the gearbox on these years. Think about, my two Dyane's. Older had 425cc engine and old type gearbox, and "the new one" had 435cc engine with "modern" gearbox. But not with disc brakes, not with longer gear ratios and with older one, no with propeller shaft output...

Yes, I know they are changed, and I'm very sure about, because I have made all last changes. The older one came with 602cc engine and modern gearbox, but I never assumed they were original ones...

About mileage. No-one can tell for sure, because there isn't enough digits to show 100000 or more. Still I assume my newer one has travelled about 580000km, it had 42000km when I bought it on -93 but I'm quite sure it was on the second round. After that I have kept mileage writed on, and about 15 years ago swapped the speedo from Bx where I put "the true" mileage on...

How much is much, on mileage? On my -71 Sm, there is 12000km on speedo, and I again assume it is on the second round. That because it was driven only 12 years before engine failure, and wasn't driven after that... And, my former -94 Xm, what I scrapped, it had only 1058000km on that time, and the Xm had been collecting "roadkilled" people on Germany and after that it was several years on Taxi at Stockholm Sweden...


With 2CV:s, it is more than easy to change identification, and if the firewall is painted, it is quite impossible to find what age or serial number it have had. But it is quite sure, your 2CV is from 80's but with -71 identity, and that's because it had been possible to have it registered when 80's 2CV:s couldn't at there. You really can't verify the originality from anywhere, if he/she who has made the identity swapping doesn't tell it...
gym bunny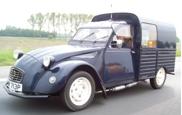 Joined: December 8th, 2008, 4:08 pm
Posts: 806
Location: Burton-upon-Trent


Re: Citroen Production Date Calculator.
I have an app on my Android phone called "Orgapreter". Works great. You can download it from the app store (it has a Traction as the icon logo)
Tim
_________________

1299cc FTW
Firing on two.


Joined: October 22nd, 2014, 10:59 pm
Posts: 1838
Location: South-Limburg


Re: Citroen Production Date Calculator.
sometimes there is a date stamp on the back of the speedo.