Re: We have liftoff.....AZU 250 rebuild thread
Some lowering......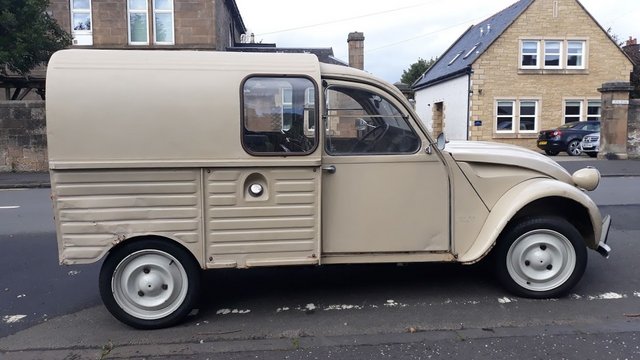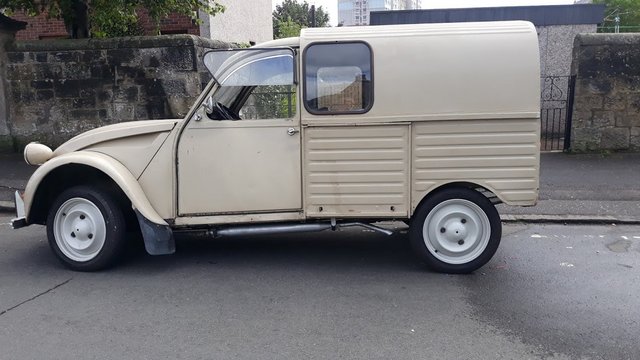 Also did some chamfering of the brake shoe leading edges, connected up the heater cables, got the ammeter going. Fuel gauge is still dead, so I need to have a look at the wiring at the tank.
Worked out that there was no oil warning light on this model.
My later engine has an oil pressure switch and there is a spare wire in the loom, (brown collar), that my wiring diagrams suggest is for the warning light so I'm guessing there is a spare connector behind the dash for the missing light. I have an MPH speedo on the shelf, and I may also swap out the plastic dash for a simple metal dash and small speedo, so I'll have a look at wiring then.
And today........I took it out on the open roads for the first time !!
Went down to my mates place, about 2 miles, to show him the van . Flushed with success and since I was out anyway, I ventured further to pick up the new grease gun I had ordered, (about 5 miles and some motorway ! )
Van ran well, performance is so much better and I can keep up with traffic. Brakes much quieter after the chamfer. Forgot how small the van is when compared to the modern stuff !!
Although its not blowing, exhaust is quite "boomy" when flooring it, quite unlike my recollection of my last 2CV saloon sounded.
Parked up, picked up my stuff, jumped back into the van and.............A wheeze from the starter then nothing
And of course, since I had not intended to go for a run, I had no tools, nothing !
Nobody at home to come to my rescue with some tools so called the AA and expected a long wait. They arrived in 15mins !
Tried connecting a battery pack, nothing, some fiddling with a meter followed. Nothing......Fortunately, the AA man did his apprenticeship back in the '80's in a Citroen garage and worked on 2cv's, happy days ! He whipped out his big hammer and whacked the starter, "try it now"........And.......away it went !!
From breakdown to resolution was around 25mins, and I got home fine, car is back in the garage and I think I have another starter in a box somewhere, so I'll look that out tomorrow.
Cheers !
Gerry