Re: Le Bouchon de Pons (F)
ken wrote:
Marvellous stuff, plenty of fun going on as well... :)
Thanks, Chris.
.
Would you happen to know what that blue car is, with faired-in headlamps?
It's in the lineup, just past an R4.

p.s. Just had another look and judging by the wacky wipers, probably a Peugeot?
Er, actually no, it's a Renault but Jonathan beat me to it!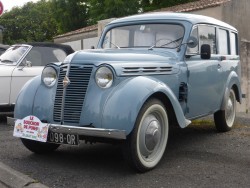 Thanks, Ken, glad you like the pics. Yes, plenty of fun and pisstaking all day. We loved the fake Gendarmes, by the way. If you look they're 'armed' with water pistols.
Here's some more pics plus some screencaps from Mrs Chris2cv's videos: