I thought I'd start a thread here, not because I feel the need to 'blog', or because I think you need to see another red spesh, but to give me somewhere to ask opinions, both technical and artistic when I'm thinking of modifying something, and then post some pics if it goes right, or just have a rant when it won't work.
Probably should start with a pic of the car, here you go, it looks like this, but not usually this clean. It's actually embarrassingly high at the moment, but I've been using it regularly and got board of scraping the bottom on the drive.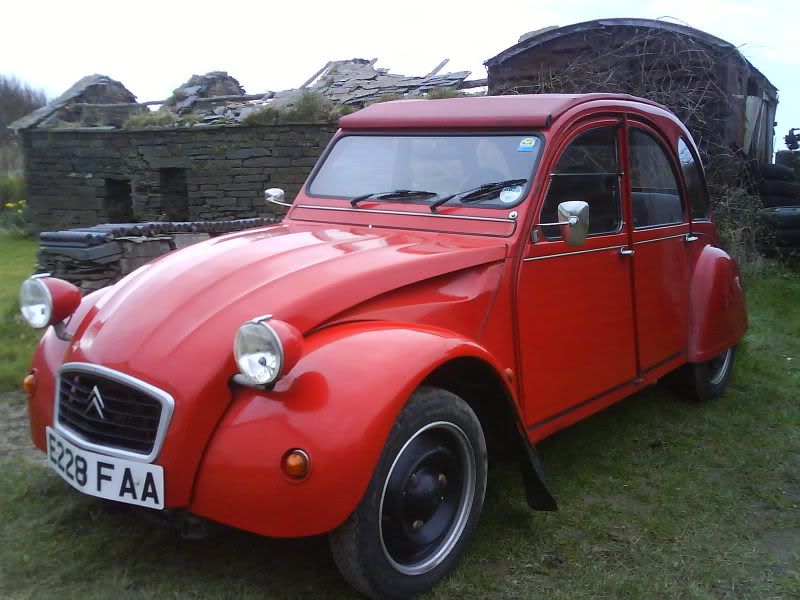 I bought it in August '04, I think, and it was pretty standard at the time apart from some stainless bumpers. It wasn't long before it got lowered, followed by modifying the front arms as well as a side exit exhaust and mountney steering wheel.
Although I think 2CVs are brilliant in their simplicity, I can't help feeling the need to add things to mine, like intermittent wipers for example. While I'm sure it's possible to buy a kit to install them with switches and relay all included, that's not how I roll! I know some people are happy with a dash full of aftermarket switches, but not me, and why buy new when you can get a 'kit' out of almost any scrap car built in the last 25 years?
I drove a renault in the past and liked the switch layout, everything's on two stalks, nice and tidy. The thought process went like this, If I'm going to use the wiper stalk then I might as well use the combined lights/indicators stalk as well. And then I can use the steering column trim that screws on to them. And the ignition switch that fits in the hole in the trim, which will also give me an accessory position, so I can switch the radio on without burning out the coil, bonus. But the steering lock won't work unless I use the whole renault column....
So, I fitted the top half of a renault steering column welded to the bottom half of the 2CV one and after a bit of head scratching over some haynes manuals everything now works from the renault switch gear (apart from the electric squirter which I still haven't got around to fitting).
Recently the crossbox, which had been doing it's job just fine since I bought the car, had a coming together with the steel gate bracket on somebody's drive. It pulled the crossbox off the front pipe and made for a slightly noisy drive home. A couple of weeks of leaky lash-up latter it was time to fix it.
The crossbox is not pretty and the chassis crossmember ain't much better, (sorry pics aren't great I've only got a phone camera)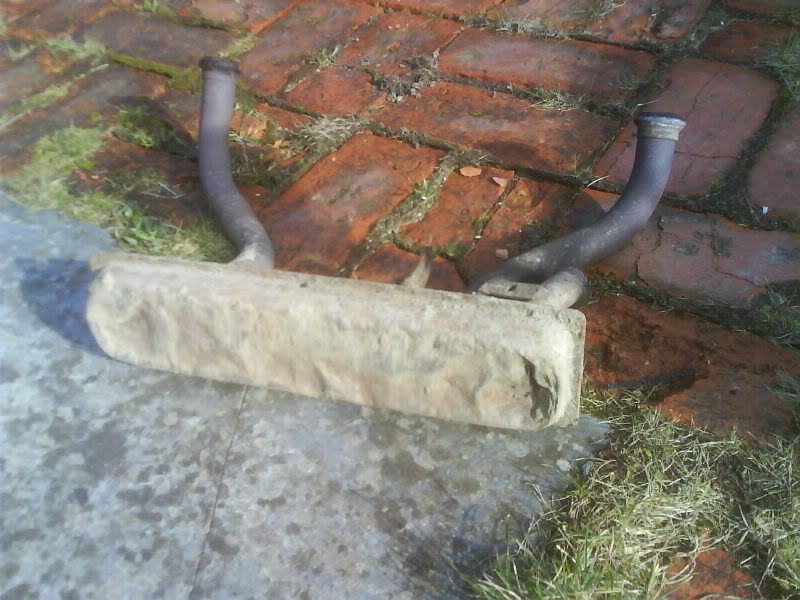 The under side of the box is all shapes, some of the swanneck flange is missing, one of the brackets has cracked off, there are holes in the sides just above the seem and a massive dent in the far pipe where it hit the crossmember. thats why I didn't bother fixing it.
And I've not known this before

bugger.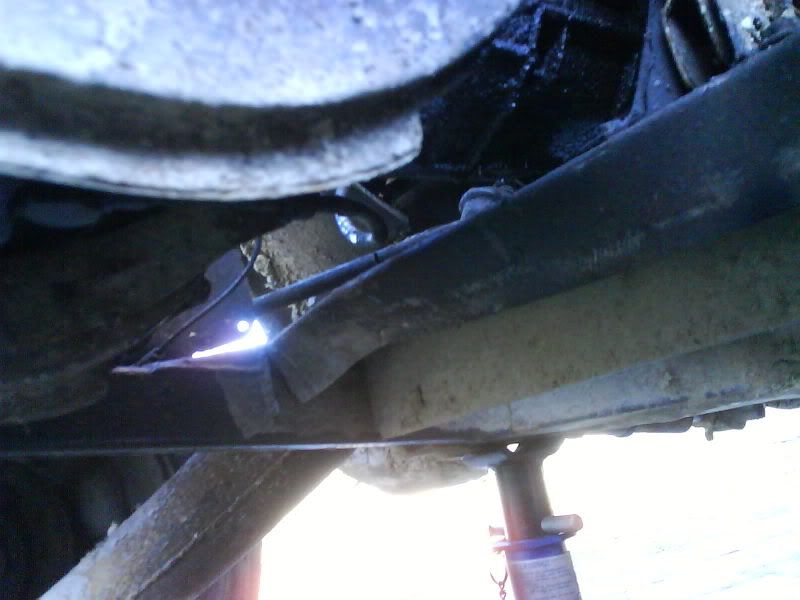 I bought a new box from the local factors, for £40 I gambled on the quality. Its made in italy by ZARA.... whoooooooooooooo. It's been in someone's stores a long time it was covered in dust and scratches. I put it on for a trial fit and apart from being for a LHD(the clutch cable bracket's on the wrong side) it was actually quite good. I couldn't help noticing at this point just how close the gearbox and crossmember were and how low the crossbox sat.
The gearbox mount is a little saggy but not too bad. Well only one way to raise the gearbox;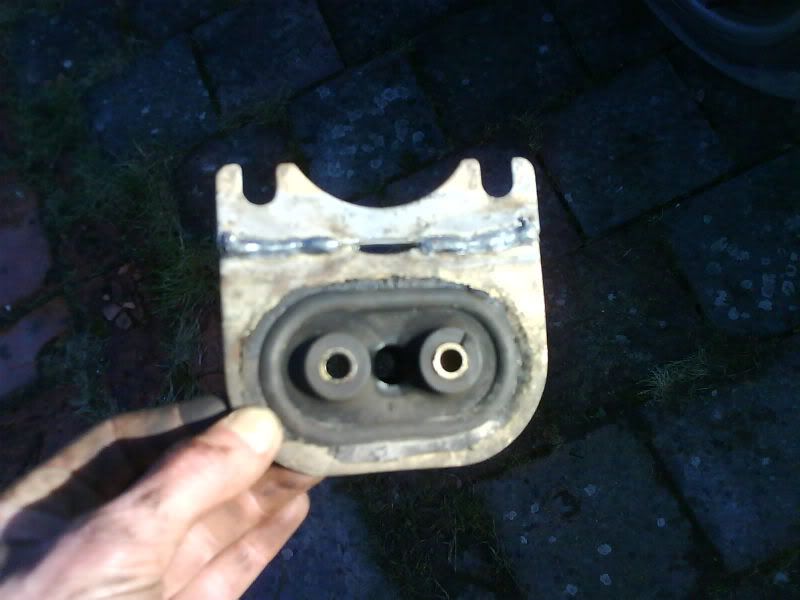 extended mounting, made out of the best of my spares (yes still cracked I know) it's 15mm higher than standard and fits without effecting the gearchange. The shorter of the two handbrake cables is a little tight but should be ok, if not it can always be replaced with a spare long one.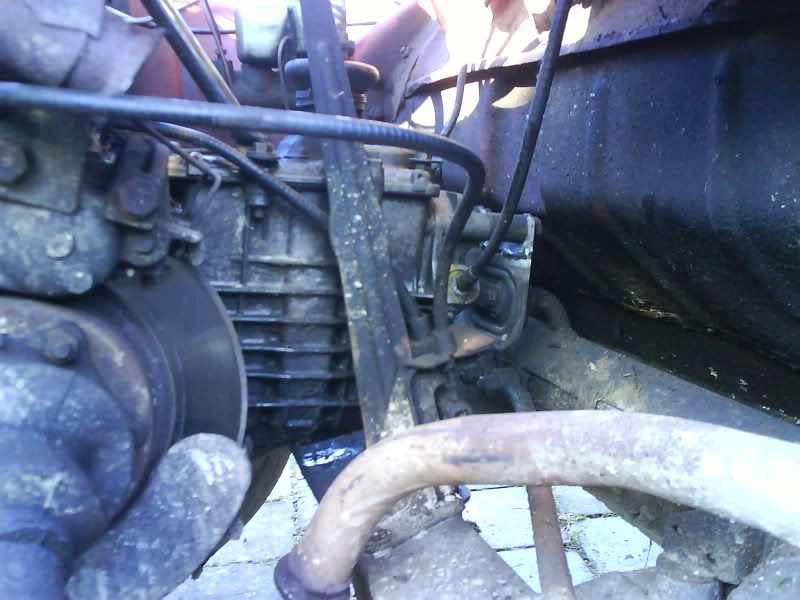 quick post it before I lose it, tbc