Idea to cure starting after hot soaks
This concerns one of my older car but applies to all older carburated cars that despise modern fuels.
OK, it's 35C, I'm in a drive thru waiting for food and my 68 Ford starts idling rough.
Attachment: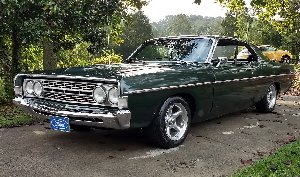 avatar.jpg [ 26 KiB | Viewed 3956 times ]
I restart the car but it stalls again and won't restart. I coast down to a car park. This makes the second time this has happened with this car in the past 20 years. Last time it happened I was at the ATM at my bank.
I ended up having to have the car towed home. After it cools down it restarts. Hesitates a bit until the fuel bowel refills with petrol.
No, it's not the coil but vapor pressure building up between the mechanical fuel pump and the carburator.
I've never had this happen to my European cars although all of them are a pain to start when it get's above say 30C. My MGB has an electric fuel pump and seems to be the easiest to restart on a hot day after a heat soak for some reason. My 2CV is the worst.
But this stalling and not restarting problem seems to effect older American cars with mechanical fuel pumps when it get's really hot outside. It doesn't matter if your burning E10 or 100% or even 87/89/93 (RON+MON/2 method) petrol. It's something to do with the anti-pollution additives in modern petrol.
It seems modern fuels have a much lower boiling point than good old leaded 89 (RON+MON/2 method) petrol that were designed to run on back in the late 1960s.
I bought an electric fuel pump to go on the Ford because I've heard this will help. I'm not really sure how. Unless by using a 4 to 7 PSI electric pump provides more pressure to overcome the vapor pressure. Where a mechanical pump may not provide that as much.
Insulating the fuel line between the pump and carb is also supposed to help.
My 2CV has never vapor locked but it's probably doing the same thing as the Ford. It's a sweltering hot day, I shut the engine off, try to restart the car after it sits for 10 to 15 minutes and it's crank for 30 seconds with my foot to the floor.
Two things are probably happening. Vapor pressure is building up in the line between the carb and pump and the fuel pump is having to push all this vapor through the float valve.
Also as the pressure builds up, it overcomes the float valve, boils in the fuel bowel and wets the plugs.
So I got this crazy idea to over come this. I'm going to be trying it on my Ford and if it helps, I'm going to do this on my Citroen and my other cars.
Having dealt this turbocharged engines, I've used those mechanical boost controllers. The eco-friendly thing to do is to run a return line back to the tank but what about this.
Place a boost controller in the fuel line between the carb and pump and connect the port that would normally go to the wastegate to a hose and run it directly to the ground.
Set the boost controller to open slightly above whatever the pump pressure is. So if the pump puts out 3 PSI, set the boost controller to bleed off at 4 or 5 PSI.
That will push any pressure/vapors out of the line as the car is sitting in a car park or while idling. Of course it may puke some fuel out as well but the intake manifold on all my old cars are stained with petrol where they have been leaking. Probably where they have been boiling over during a heat soak or leaking throttle shafts.
Does anybody find anything wrong with this idea? Comments?
Here's the boost controller I'm talking about:
https://www.ebay.com/itm/NXS-MOTORSPORT ... XQHO9Rcan2