Etoile and I were blessed to be able to take the might Viking Van 5000km's across the south of OZ, Perth to Melbourne along the coast.
I had half a plan; stick to the coast, stay off the main roads, don't hurt Vikings baby and work on the immaculate conception. All in 10 days. This is what happened...
The Might Viking Van!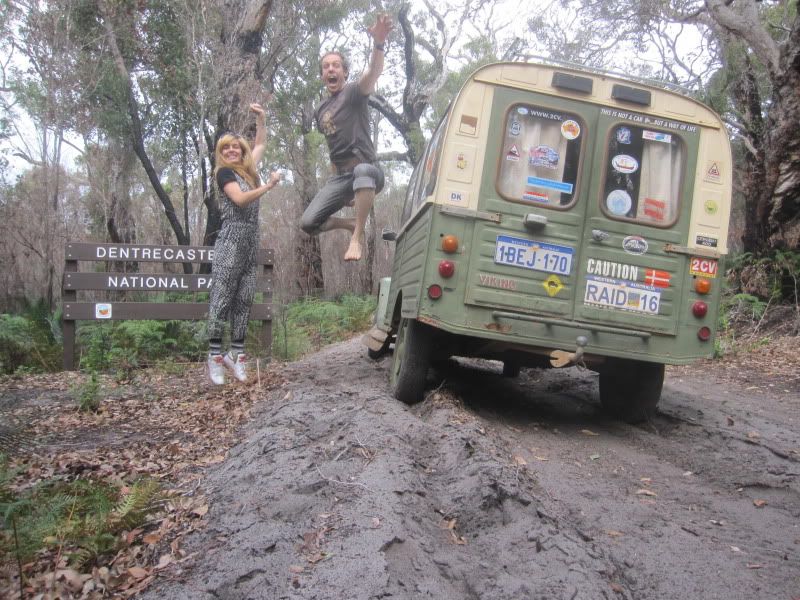 On the 3rd day after bunking down in Margaret River to let a south ocean storm blow over I passed the Map to Etoile to guide us into Pemberton to camp amongst the huge trees. She chose the Milyeannup Coast rd... It was 60+k's of 4x4 track, I was in heaven

The further in we went the sandier it got, with a few steep sections where we had to engage the 4wd (Etoile driving and me pushing!)
I chucked some ballast on the back to give us bit more height at the front

We made it all the way 40k's into the turn off to Black Point camping ground where we discovered enormous ruts carved into the soft sand which made it virtually impassable... After navigating the junction we got out the other side onto some harder stuff, which just got harder to navigate and steeper, 5k's in and we found a hill that was just too steep, so back we went to the sand pit.
We headed north from the Black Point turn off and the sand just got worse and the ruts deeper. We found the beasts that made the tracks, 3 4x4 tipper trucks carrying materials into the camping ground, I pulled over to let them get past and they were like "HTF DID YOU GET THAT IN H'EAR?" I told them we came from the West, they could not believe it

I entertained them enough to give us a tow on their return trip, should we need it...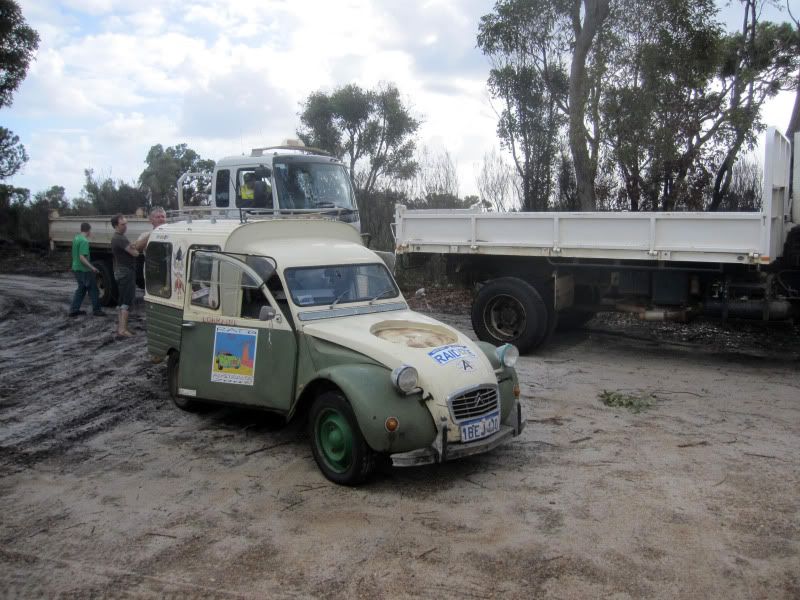 I exhausted my creative repertoire in getting us out of that place and after 10k's of digging, pushing, making new tracks we came upon a steep sandy hill that was beyond me. My little buddies arrived soon after and towed us up 20meters and we were off again, the trucks were kosher, they rolled on Michelins

First camp after a long day, amongst the giant trees at the Arboretum at Big Brook Dam, a Kookaburra kept us company for dinner.
Next day we climbed the Gloucester, 68meters high! No idea how they get around the health and safety, if you slip you fall, nothing to catch you.
Then a short blat down to Walpole. Got back on the dirt tracks and found Chesapeake rd, it was raining and had a recent back burn, the colours were surreal, we even spotted a wild boar rooting around on the road. No Viking that's not the wild boar in the photo!
Just after Walpole we walked the 40meter high skybridge through the Valley Of The Giants, so amazing.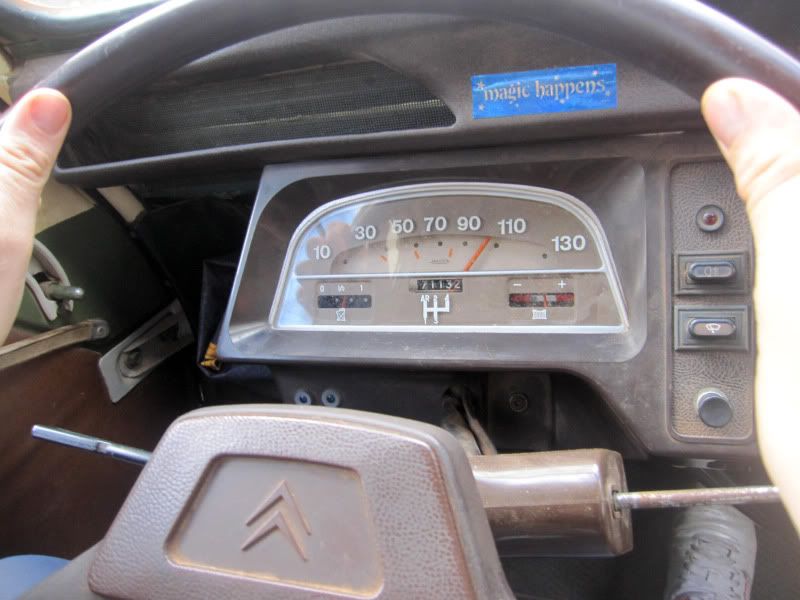 Like the sticker says, Magic Happens! although Etoile was driving and we were on our way towards Denmark... So I think Viking Van was just a little excited and confused

Camped that night at Crusoe Beach, it sounded interesting and it was so beautiful! We may have eaten too many beans...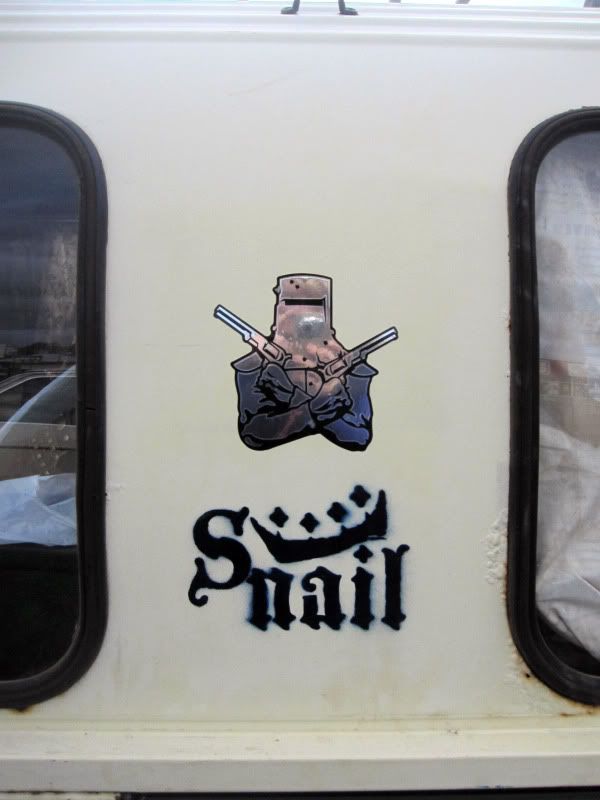 Picked up a hitch-hiker in Albany.
Dropped down into the Fitzgerald River National Park, I probably should have read that little yellow notice....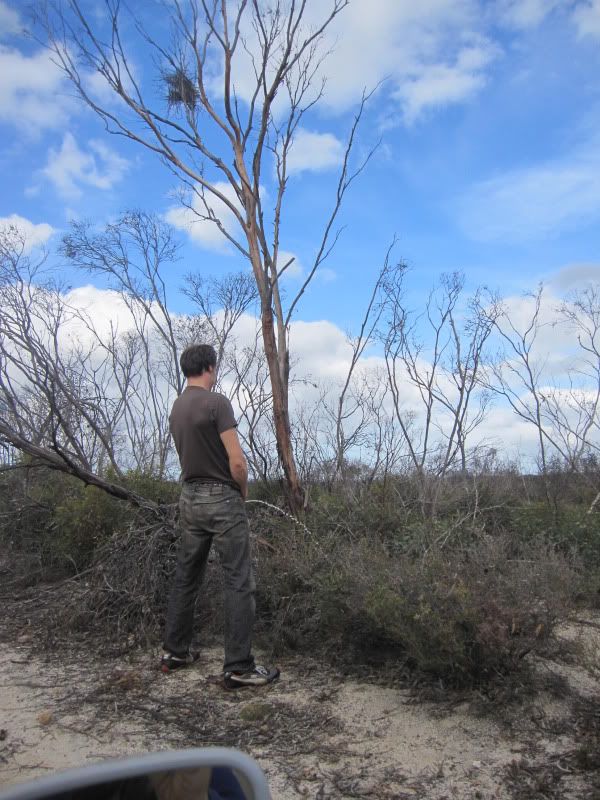 Found some native flora in need, I was happy to oblige.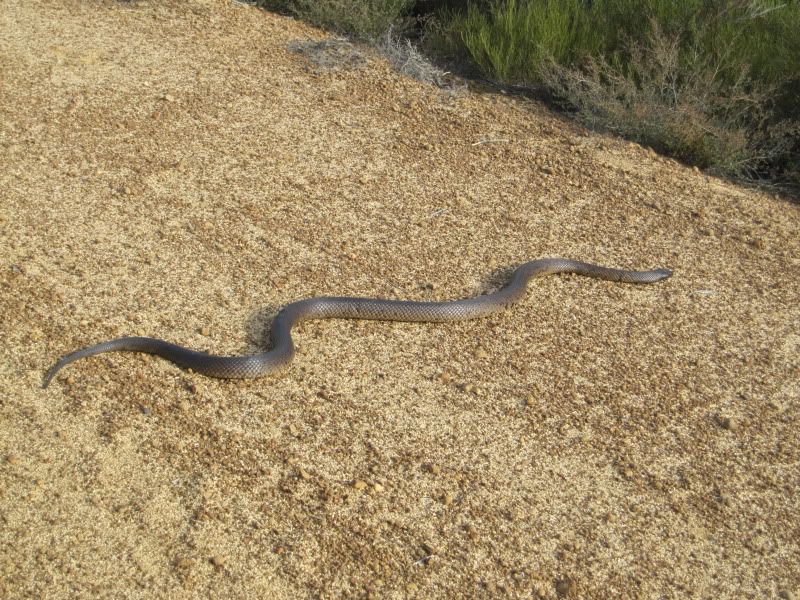 Found some native fauna in need, but I was too scared to give him a drink in case he got jealous

There was a fire feeding the Stratocumulus in the distance
MERDE! after a 70km trip in and just 18km away from the next town...
without enough fuel and daylight to get all the way back out to asphalt we gambled on another rated 4x4 track, Moir rd. It was slow but easily passable, rustic beauty at it's finest.
ENCORE MERDE! This time we were on the wrong side of the gate, which explained the burn off. We took liberties.
Finally made it to Hopetoun, filled up, including the extra-extra 20L jerry can this time, and headed up to twelve mile beach to set up camp.
Passed through Esperance and hit the Wylie Bay beach! heading for the Cape Le Grand national Park.
Maybe hit it to hard, suddenly the sand just sank no way we would make it through this.
Lots of surfers in the 4x4's to lend a tug.
They tugged so hard Etoiles cloths fell off

After a wash in the ocean we went back to the tarmac and then dropped on to the Merivale rd headed for Poison Creek at Cape Arid, this added a couple of hundred k's to the trip, in and out, but it was worth it.
Sunset.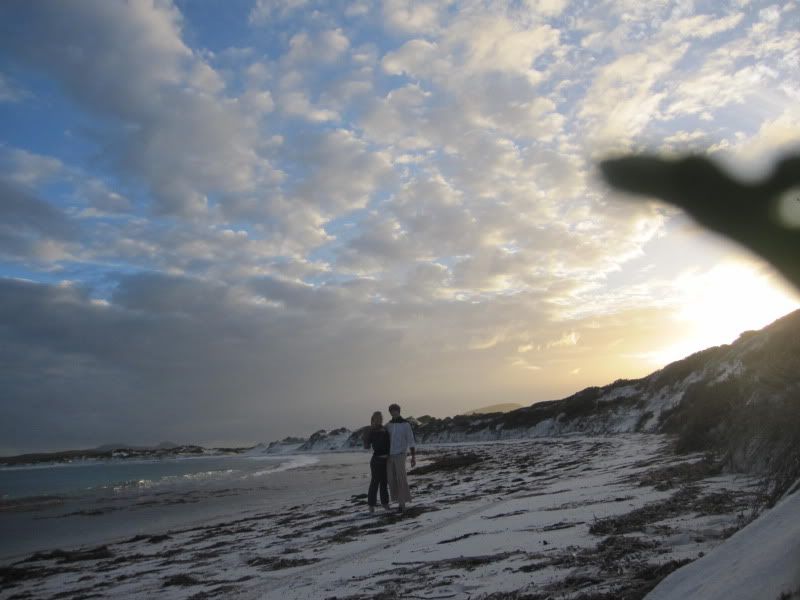 Beach walks
Beans.
More beans.
A place I would luv to spend a week getting lost in, such remote beauty.
Back on another rated 4x4 track, this time it's an old road train route. I'm glad I bought a 2nd jerry can in Albany. We saw 3 camels on the track, so big the van could have driven under their legs!
WIN! we found the underpants gate, Viking told us about it but I had no idea it was way out here! which was lucky, because we both needed an extra set...

And another not to far on... Number 1 rule in OZ, leave the gates how you found them, that means donations as well, a can of aero start sufficed.

We made it to the 90mile straight...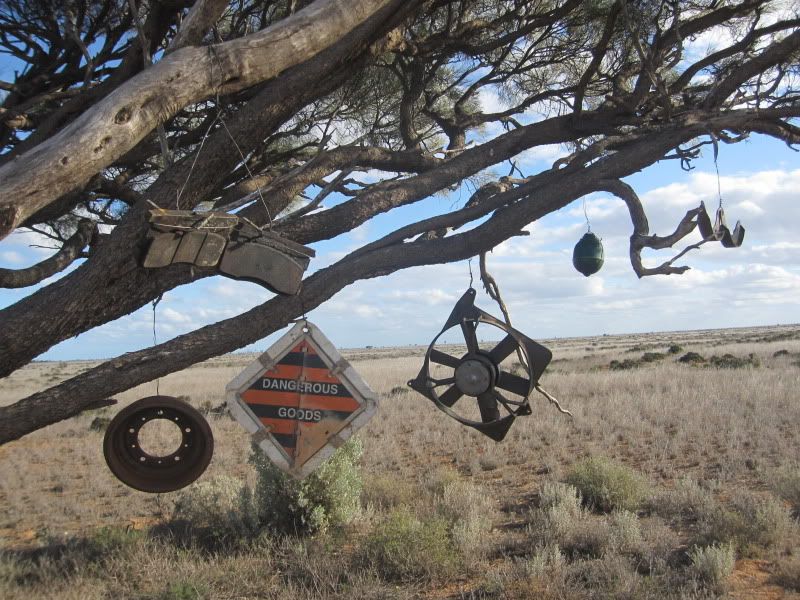 And discovered this little gem, a genuine Citroen parts tree!
Google Maps Location
Located 70km's out of Caiguna right on the south side of the road there is a small dirt track heading off into the distance.
After the 90 mile straight you hit the tree less plain. If only Viking Van had a little more HP so that I could slipstream a road train, I never gave up hope but I could never get in there fast enough

Yeay trees!
After we dropped into the head of the bite we shot gunned it through to Port Augusta to make up for the lost time, 3days, we accumulated rooting around in WA.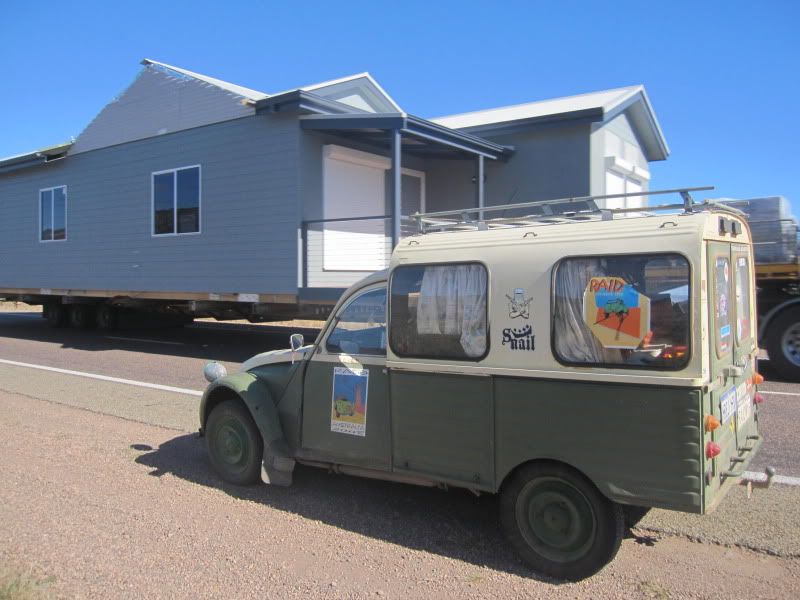 Just after Port Augusta everyone was ran off the road by two pricks moving house, two road trains completley covering both sides of the road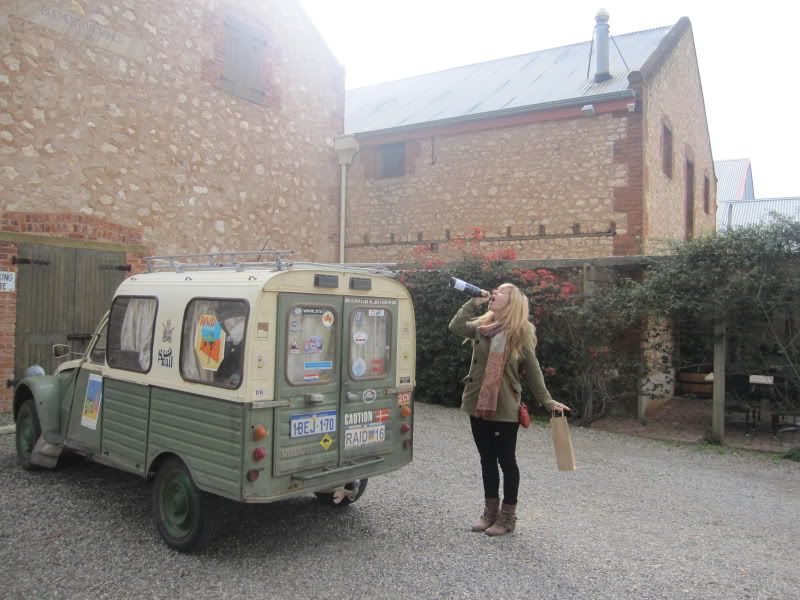 Stayed with family in Adelaide and stocked up for a blat down to Portland.
Hopped on a ferry.
Then along the Great Ocean Road, it must be one of the best roads to drive anywhere in the world.
Our last sunrise in the wild, we had one more camp down near cape Otway at Blanket Bay amongst the Koalas, i've never seen so many of them in the wild! Back to the real world.
Big thank you to Viking, it was an absolute pleasure, what a blast. The Viking Van was a triumph, not a single breakdown, flat tire or anything.
Now I have the urge to build a mild 4x4 van to beat the steep sandy sections, time to find an ami super chassis. I still need to work on the Immaculate Conception...

Harley